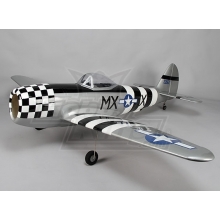 HOBBYKING P-47D P-47 THUNDERBOLT COMPOSITE 1800MM (ARF)
---
The P-47 Thunderbolt was produced in greater numbers than any other US fighter, although arguably it was in the fighter/bomber role that the "Jug" really made its name and was one of the best Ground Attack Aircraft of WW2, paving the way for the modern concept of multi-role capability aircraft.
This is one big Thunderbolt! Designed as a semi-scale Sports model, it offers all the advantages of a good sport flyer combined with a Warbird look for the best of both worlds. Nothing flies like a big warbird and there is no doubt, this model looks fantastic in the air, engine growling as it strafes the landing strip! For the scale warbird enthusiasts there is plenty of scope for "scaling up" but it flies so well, it wont be a Hanger Queen that can only be flown when conditions are just so.
The paint & covering finish is quite superb, a comprehensive hardware kit is included and fixed under-carriage is also included, the model is also retract ready for those not wanting dangly legs ruining the look! There is a huge amount of room in the fuselage for RC gear and a wide range of both glow and Gas engines to choose from, one thing is for sure, it wont be an expensive build for a model of this size and class. With Flaps to keep landing speed low, low flying weight and a wing designed to prevent nasty warbird like tip-stalling, this is a great choice for a practical, every day sport flier with some charisma.
Specs:
Wingspan : 1800mm
Length : 1400mm
Wing Area : 42dm2
Wing Loading: 107g dm2
Flying Weight: 4500g
5-6 Channel

Includes:
Instructions
All Hardware inc fuel tank and engine mount
Decal Sheet

Requires:
Your Own 6 Channel TX/RX
6-7 Standard servo
0.90 Two Stroke or 1.20 Four Stroke Glow Engine
20cc~26cc Gas Engine
1.20 Class Retracts (Optional)
RX Battery
---
Otras personas también compraron: